COPOZZ G2 Ski Goggles Highlights
Dual-lens goggles featured with anti-fog, anti-wind and 100% UV protection to protect your eyes when skiing, snowboarding, snowmobiling and other snow sports.
Clear vision at day & night in all weather condition: Different lens VLTs offer great panoramic vision and clean sight for all the way on the slope.
Compatible with your own sport gears: The Lagopus series snow goggles come with adjustable extra-long head strap which compatible with helmet and different head sizes from teenager to adult.
Anti-winds and keep you warm.

Magnet quick lens-changing system for better lens swapping and cleaning.

Anti-fog and two way venting for clear and clean vision.

Comfortable triple-layer foam for face fitting.

100% UV400 Protection.

PC lens + TPU frame for impact-resistance.

Elastic strap for better helmet compatibility.
Please do not use finger or rough cloth to wipe and clean the lens as they will either stain or scratch the lens.
Please keep the goggle in the pouch or box instead of facing on the ground or desk.
Please do not use mascara or other oily substance in case lens gets dirty.
Please air-dry the goggles after every snow sport e.g. skiing, snowboarding and etc.
Please do not wipe the inner lens which will invalidating anti-fog function.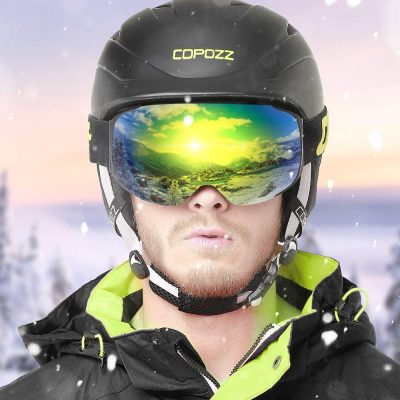 Magnetic Quick Interchangeable Lens System
2s quick interchange lens experience , the lens attract into the frame with a gentle clang.

10 pairs magnets , hold the lens tight . Better  performance than other brand.
Better Anti-scratch Performance The outer lens of the ski goggles with Super-hardening Technology,  Enhanced anti-scratch Performance .
Longer & Better Anti-fog Performance Inner long-lasting anti-fog lens made by Italy ,Smart+ ventilation system
100% UV Protection
Better Helmet Compatible Silicone-backed non-slip  ,  widening high density 3D jacquard long strap .
Large OTG ( Over The Glasses ) Design OTG goggles are designed to allow you to wear your prescription eyeglasses under the goggles. The max length of the prescription eyeglasses is 5.6 inches.
2s Fast Swapping Lenses
Fast & Easy to Change Lenses
Just one step to remove the lens .
This Goggles Is Good For Ski Snow Snowboard Snowmobile Skate Motorcycle Riding
Friendly Tips
Please do wipe the OUTER LENS with the pouch gently, if the outer lens get dirty .

Please do not wipe the INNER LENS which will invalidating anti-fog function.

Please keep the goggle in the POUCH or BOX instead of facing on the ground or desk.

Please do not use mascara or other oily substance in case lens gets dirty.

Please air-dry the goggles after every snow sport e.g. skiing, snowboarding and etc.

This goggles is good for skiing snow snowboard snowmobile skate motorcycle riding.
Ski Goggles Details
Comfortable , Safe & Health Materials

Lens 

: PC , the inner lens 

Made In Italy

Frame 

: Premium TPU

Triple Layers Foam

 :  High elasticity, comfortable and breathable foam .

Silicone-backed Non-slip Strap

Package Includes:

1 x Copozz Ski Goggles

1 x Carrying Pouch

Helmet Compatible

Great Helmet Compatible with COPOZZ Ski Helmet and other ​Ski Helmet .

About Storage ​ Always store your goggles in a bag, sleeve or carrying case of some kind.  Never leave them lying around or in your car overnight because this can lead to cracking, fogging and the risk of your lenses getting scratched.  Most goggles come with a sleeve to store them in and some even a carrying case, though those can be purchased separately. Just like your ski boots, you shouldn't leave your goggles in the car overnight.  Store them at room temperature.  Sweat or water that got on your goggles during the day will freeze overnight in the car, and will cause fogging the next day when you ski.

Goggles Care and Maintenance

Taking care of goggle lenses is often something that people aren't properly informed on. Lens care can often decide whether it's going to be a good or bad day on the slopes.  Fogging is often the leading cause for short days on the slope.  There are a couple things you can do to increase the life of your lens before you even step out of your home.

About Cleaning

Take a micro fiber cloth or your goggle bag and wipe the smudges off.  DO NOT use paper towels, your sweatshirt, gloves, or blanket to clean them off.  Use a soft, dry cloth and gently clean the lens. Also DO NOT clean the inside of your goggles if at all possible.  Companies spray their lenses with a protective, anti- fog coating on the inside of lenses.  By wiping the inside of the lens you're removing that coating.